The beguiling charm of the Festive Season in Colmar!
The magic of Christmas in Colmar, first of all there's the ambiance of the Old Town, illuminated and decorated like a fairy tale : a historic setting made magical by the Christmas illuminations which, in this festive period, blend harmoniously with the wonderful lighting designed to enhance the town's heritage, and lay a soothing aura of light over the centre of Colmar.
Town centre which is essentially pedestrian, comprises numerous architectural treasures such as monuments, churches, museums and alleys, built for the most imposing from Middle Age to 19th century. Do not miss to be amazed by the Maison Pfister, the Koïfhus, Unterlinden museum, Little Venice, the House of the Heads and Saint Martin Collegiate church.
The whole town is decorated like in a dream to turn the old centre into a veritable open-air theatre where the warm Christmas mood envelops the heart of the town.

Every year, the Colmarians play a major role in the creation of a special Christmas atmosphere via a joyful decoration contest.
The magic of Christmas in Colmar, it is also the tradition of gifts, Christmas shopping and Christmas boxes : that you can take all the time in the world to explore. First of all the Christmas markets, one is devoted entirely to children.
You will also discover a multitude of events: exhibitions, conferences, concerts, fairy tales and other open air events which, from Advent to the New Year, punctuate the Festive Season in Colmar.
Another place to see is the place Rapp draped in a playful and fairy tale ambiance : in the midst of a winter wonderland scattered with snowy Christmas trees and chalets, you will be delighted to discover an illuminated ice rink for the greater pleasure of young and old alike.
The magic of Christmas in Colmar, it is eventually a multitude of culinary specialities, amongst which are numerous sugary pleasures, that fills the window displays of specialist shops and delights young and old alike on the stalls of the Christmas markets…
Respect of traditions and authenticity: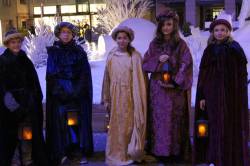 Many heathen and Christian traditions remain profoundly anchored for centuries in the habits and customs Alsatian. Nowadays, Colmar respects the regional's traditions and makes a focus on the authenticity. The selection committee of the exhibitors makes a point of honor to promote the Alsatians storekeepers who present original and authentic products. Moreover, all animations during this cycle are thinking in this mind.